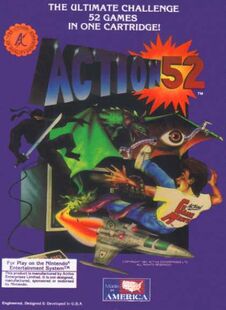 Action 52 is an Unlicensed NES Game released in 1991 in the North America. It is notorious for its lack of quality and ridiculously high price of $200.00 at its release, often being named the worst NES game in existence. The Cartridge contains 52 "games":
2. Star Evil
3. Illuminator
5. Ooze
6. Silver Sword
8. Jupiter Scope
9. Alfredo
10. Operation Full-Moon
11. Dam Busters
12. Thrusters
13. Haunted Halls
14. Chill Out
15. Sharks
16. Megalonia
17. French Baker
18. Atmos Quake
19. Meong
20. Space Dreams
21. Streemerz
22. Spread-Fire
23. Bubblegum Rosie
24. Micro-Mike
25. Underground
26. Rocket Jockey
27. Non Human
28. Cry Baby
29. Slashers
30. Crazy Shuffle
31. Fuzz Power
32. Shooting Gallery
33. Lollipops
34. Evil Empire
35. Sombreros
36. Storm Over the Desert
37. Mash Man
38. They Came...
39. Laser League
40. Billy-Bob
41. City of Doom
42. Bits and Pieces
43. Bleeps and Blips
44.Manchester Beat
45. The Boss
46. Dedant
47. Hambo's Adventures
48. Time Warp Tickers
49. Jigsaw
50. Ninja Assault
51. Robbie and the Robots
52. The Cheetahmen
Reception
Edit
Action 52 is widely reffered as the worst NES game ever made. Most reviewers will tell you that the games are "unplayable" and "broken". The Gamefaqs review average is very low, and the "My Games" average is barely higher.
Game #9 "Alfredo" AKA Alfred n The Fettuc & Game #49 Jigsaw don't work on the original cartridge, but only on some emulators.
There is a version of Action 52 on the Sega Genesis, released in 1993, and it's known for being majorly improved over the NES version. It has many of the original NES games, improved over the NES counterparts, and some new one's that replaced the rest, but considered to be butchered clones of mediocre NES title's. It is way better, all the games are fully functional, but it still had negative and some mixed reviews from critics
Prototype
Edit
In August 2012 one of the four original Action 52 developers surfaced and surprised the gaming community with their find, their very own original boxed Action 52 NES Prototype cartridge, the only other Action 52 Prototype known to exist. Along with never before seen original Action 52 and Cheetahmen posters and artwork, they posted an eBay auction selling the items for a $97,000 Buy It Now option or Best Offer. The auction generated over 10,000 views and 50 offers. They have since created a blog documenting the auction, the prototype, and more importantly, their part in the development of the Action 52 NES cartridge. Their version of the story of Action 52, Active Enterprises, Vince Perri, and the other developers can be read at http://Action52Prototype.com
Ad blocker interference detected!
Wikia is a free-to-use site that makes money from advertising. We have a modified experience for viewers using ad blockers

Wikia is not accessible if you've made further modifications. Remove the custom ad blocker rule(s) and the page will load as expected.